We support organizations in their goals of planning and growing quality assurance, capacity, improvement, and the overall effectiveness of management systems. This process ensures that you meet federal and state licensing requirements as well as URAC, NCQA, JCAHO, CARF, or COA accreditation standards. Each one of our clients has achieved their desired accreditation.
100% Accreditation Achievement Success Rate
Accreditation can be daunting for both new and existing organizations.  this is where BHM can help, our consultants have helped a number of organizations achieve successful accreditation.  In fact, to date, BHM clients have a 100% success rate in gaining the accreditation that their organization sought.  Let our consultants apply unique processes together with expert guidance to assist your organization in obtaining the desired credentials.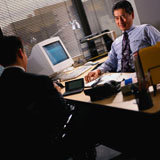 ACCREDITATION SERVICES
URAC Accreditation Preparedness- Guiding your organization toward achieving successful URAC Accreditation in any of the 28 Accreditation and Certification Programs offered by URAC. Our consultants have experience with health management operations, processes, systems and training.
URAC PCHCH Accreditation Preparedness- Professional URAC PCHCH Accreditation provided by professionals who understand the complexities of care coordination and have a comprehensive knowledge of URAC standards.
URAC PCHCH Auditor Services- Independent PCHCH practice assessment audits for healthcare practices hoping to achieve URAC PCHCH Accreditation
Other Accreditation Preparedness Programs- Preparedness programs with a specialized focus on obtaining COA, CARF, TJC, and NCQA Accreditation
HIPAA Compliance Analysis- A comprehensive program that will work to achieve organizational compliance with all applicable HIPAA regulations including HIPAA 5010
ACCREDITATION ORGANIZATIONS
At BHM our consultants are familiar with the following accreditation organizations including processes, protocols, and how to achieve the desired accreditation for your organization quickly and effectively.
COA- Council on Accreditation
CARF- Commission on Accreditation of Rehabilitation Facilities
TJC- The Joint Commission (formerly JCAHO) on the Accreditation of Healthcare Organizations
NCQA- National Committee for Quality Assurance
URAC- Utilization Review Accreditation Commission
HIPAA Compliance- Health Insurance Portability and Accountability Act
THE IMPORTANCE OF ACCREDITATION
Accreditation from various agencies is not only vital to the success of any healthcare organization, but essential to licensure and compliance in some cases. Two of the most important organizations that we deal with are NCQA and URAC. NCQA is the National Committee for Quality Assurance and is responsible for evaluating preferred provider organizations on a standardized set of measures which looks at things such as clinical measures and patient experience ratings to provide a comparable ranking for the organization. URAC stands for Utilization Review Accreditation Commission. URAC is the largest accrediting body for healthcare and has accreditation programs which operate in every state. In addition some states also recognize URAC accreditation meaning that the accreditation can be used to meet state regulatory requirements instead of reporting to the state. Some states currently require URAC accreditation in order for an organization to conduct business.