BHM Healthcare Solutions has an unparallelled reputation in Behavioral Health consulting. Our specialists in denial management, financial analysis, clinical operations, quality improvement, and accreditation can get proven results for your organization. Please read below to see what some of our partners have had to say about our services
BHM helps Hospital Systems dramatically decrease denials and improve profits
BHM assists midsized payer with successful accreditation preparation in a short time frame
BHM addresses problem of MD retention with an innovative financial and telemedicine design.
BHM helps provider organization recoup $800,000 revenue in first 3 months
Case Studies
BHM helps Hospital Systems dramatically decrease denials and improve profits.
Client: A nationally recognized healthcare organization with 3,000 plus employees
Challenge: This healthcare organization was suffering profit loss due to a significant number of denials
Beginning Figures:
Over $1,100,000.00 in total lost revenue per year
Number of denials peaked in 2006 at 8.2% of days
A major healthcare organization partnered with BHM Healthcare Solutions on a multi-year engagement. The goal of this engagement was to be able to measurably track denials, pinpoint denial causation and reduce denials. Once strategies were implemented the client achieved these results in about 8 months.
The total revenue loss experienced due to denials of a few days here and there had a dramatic subsequent impact on total losses. It was our primary focus throughout the duration of the project to improve work flow and communication which subsequently reduce losses.
Approach: After putting in place effective measurement strategies, the analysis revealed that it was not one type of denial, or a singular cause, but a number of separate but interconnected causes which were creating the losses. This resulted in our instituting our CORE Principles.
The CORE Principles
Communication
Organization
Reporting
Education
Results:
BHM Healthcare Solutions was contracted to work with this major healthcare organization on a multi-year engagement. BHM was able to institute reliable tracking measures to not only monitor the rate of denials, but also to aid in pinpointing causation. After pinpointing problem areas BHM worked with the organization to dramatically reduce the number of denials the organization was suffering. Doing this eliminated revenue lost from previously denied claims in addition to helping them to reclaim hundreds of thousands of dollars in previously denied claims. The total benefit of services to this organization resulted in over a million dollars improved revenue per year.
After instituting changes specific to the needs of this organization we were able to show a dramatic decrease in the number of denials. Additionally there were successful tracking measures in place to measure the process in real time. The number of MD to MD review dramatically decreased which had the offset benefit of improved MD satisfaction as they had to do less reviews and those that they were responsible for had a more favorable outcome. The overall productivity of the UR staff was improved as well.
Reduction in denials to less than 0 .1% of days
Lost revenue from denials was reported at less than $90,000 in 2008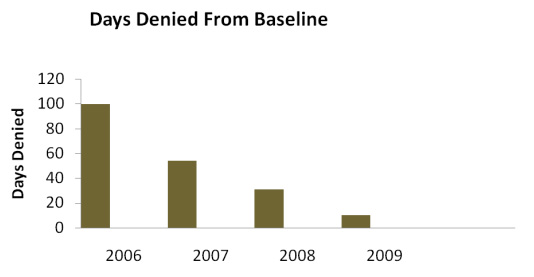 BHM assists midsized payer with successful accreditation preparation in a short time frame.
Client: Midsized Payer serving the behavioral health needs of approximately 600,000 consumers.
Challenge: This payer had been working with another consulting firm with the goal of accreditation preparedness. When this organization came to us they were only 6 months away from accreditation and still did not have any updated policies and procedures in place. . Typical accreditation preparation can take from 12-18 months. When this organization came to BHM they were only 6 months out from accreditation so working quickly was an essential piece of this project.
Solution: BHM consultants worked to rapidly address unresolved issues within the organization. Our consultants developed new procedures and worked with client's staff to implement these new procedures in order to bring the organization into full compliance prior to accreditation.
Results: The payer was prepared for a successful
Approach: Upon taking over the project from the previous consulting firm it was determined that there was still a strong need for significant policies and procedures development as well as implementation prior to readiness for accreditation. BHM consultants developed a different approach so that BHM staff worked on the procedures and after preliminary procedures were developed the payer's staff worked closely with BHM to finalize and implement changes. This resulted in a much more rapid result as everyone was focused on their core competencies. The final result of the work was complete preparedness for successful accreditation for the organization.
BHM addresses problem of MD retention with an innovative financial and telemedicine design.
Client: Complex health care delivery system
Challenge: This organization was finding that it was having problems retaining quality Physicians in a number of their facilities. When BHM was called they were losing Physicians at a rapid pace which was hindering daily operation and affecting quality of care.
Solution: BHM met with physicians as well as the other stakeholders. A cost sharing compensation model as well as telemedicine was developed to address underserved areas.
Result: The system has stabilized. New doctors have been recruited and the new technology and compensation models are allowing for success
Approach: BHM was called in to work with a complex health delivery system. The system was losing MDs due to compensation issues and the rural and underserved areas. After meeting with all stakeholders, a multiparty collaborative effort was developed that addressed funding, physician satisfaction/retention and the geographic needs of the patients. BHM helped the stakeholders leverage the various parties and technology to have a successful new venture.
BHM helps Provider Organization recoup $800,000 revenue in first 3 months.
Client: Large provider organization ($12 million annual)
Challenge: This organization was experiencing issues with cash flow, but was unsure of the source of the problem.
Solution: BHM conducted a detailed data analysis of this organization and looked for areas of opportunity. The primary focus of this analysis was the various departments that are responsible for revenue cycle.
Result: After implementing the first phase of recommendations provided by BHM this organization recouped $800,000.00 in revenue in the first three months that would have otherwise been lost as well as began to resolve their cash flow issue.
Approach: When BHM first met with this organization it was made apparent that they were experiencing a number of problems related to collections. These problems were leading to organization wide issues as they contributed to a significant cash flow problem. Upon our first look at the organization we estimated that there were millions of dollars in current uncollected revenue. The first step of working with this organization was to conduct a detailed analysis of multiple departments to identify areas for improvement. Following this analysis BHM would make specific recommendations based on our findings in order to fix the identified problems. The review will complete a contact-to-payment cycle (revenue cycle). This review is designed to analyze systems and procedures that collect information during these key areas:
First Contact
Scheduling
Documentation
Billing
Payment
Within the first three months of working with BHM consultants this organization recouped a total of $800,000.00 in lost revenue, resulting in improvements of the organizations overall cash flow. Additionally new processes and procedures are being put in place by BHM continue to ensure that billing and coding are optimized, and collections are current and correct. This organization continues to experience a dramatic increase in revenue due to the implemented changes.