Health insurance denials could be causing your organization to lose a significant amount of revenue each year. We can help your organization optimize profitability with our denial management process, which has lead our clients to see a dramatic reduction in health insurance denials and a measurably improved bottom line.
Why denial management is essential to a health care organization
Industry studies indicate that approximately 25-30% of health care claims are rejected or denied. This results in millions of dollars of lost revenue each year for health care organizations. The majority of these losses can be avoided by implementing our unique denial management process.
Our unique approach:
BHM's CORE Principles for denial reduction
Communication
Organization
Recording
Education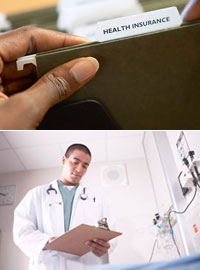 Analysis and Assessment – detailed assessment results in comprehensive understanding of your organizations health insurance denials.
We will provide a comprehensive evaluation of processes, source of denials and reason
Analysis of pre-service, concurrent and post-service review protocols
If effective tracking methods have not been implemented for your organization we will help you to develop and implement these.
We will thoroughly review denied charts to determine causation
We will review local and national regulations to help determine how they are effecting your organization and denial rates
Implementation – Smooth process to quickly begin to reduce or eliminate denied insurance claims which we can help your organization
implement step by step
We will provide a detailed strategy to target the denial and appeal process focusing on implementing improvement within your organization
BHM will make handling denied claims manageable by inserting management protocols, introducing improved technology and implementing tracking and benchmarking procedures
We will create methodology for your organization to easily manage the appeals process
Implementation of targeted training for the utilization review and case management staff as well as clinical staff that will be targeted to addressing specific issues within your organization
We will work with you to improve relationships and terms with payers to ensure that your organization maintains a low denial rate into the future.
Development of overall tracking methods to help you determine the cause of denials
Prevention – we focus on procedures that can be implemented to prevent insurance claim denials from occurring.
Review of managed care contracts that have a bearing on claims payment
Prevention of physician reviews and thus denials
Training programs to address specific denial issues
Assessment of billing practices that may delay the claims process
Providing a methodology to focus on denials and appeals
Providing training for the utilization review and case management staff
Our comprehensive modules include:
Reasons for denial insurance claim
Denial appeal status
Provider and payer responses to authorizations
Provider and payer responses to concurrent insurance claim denials
Information regarding physicians and departments involved in the insurance denial process
Case-management notes
Level of care determination
Revenue which is lost or at risk