BHM provides financial management for health care as well as healthcare financial analysis of risk by applying cutting edge financial management models. These models are matched with the goals of your organization so that they are aligned with your organization's culture and mission and oriented at providing increased efficiency and profitability.
Healthcare Financial Analysis and Financial Management Consulting for Health Care Companies
Recent changes in the health and social services industries have had a dramatically negative effect on the financial performance of organizations industry wide. Reduced fees, managed care, restructure of reimbursement models, and reduced budgets have caused cash flow problems, deficits, and general loss of business. The key to survival in these times is adaptation allowing your organization to stay competitive and profitable in the current economic climate. To do this it is essential to implement cost control, develop compensation models, and assume and manage risks. Our consultants are experts in financial management for health care and are experienced in providing the following services.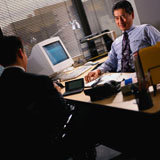 Healthcare financial Improvement
The cumulative implementation of one or a combination of our programs will help your organization manage operational costs, increase net revenue, decrease cash flow problems, define growth opportunities, and comply with regulations.
Healthcare financial analysis
This full organizational analysis will focus on cash flow improvement
Revenue Cycle
Processing to submission
Claims systems analysis- optimizing the process for your organization
Claims denial resolution
Incurred by not reported (IBNR) calculations
Budget and pro forma development
Case rate and capitation rate analysis and development
Cost accounting system assessments
Due diligence for potential acquisitions and partners
Development of performance based compensation models
Financial strategy
Benchmarking and actuarial modeling
Managed care contracting strategy development
Debt capacity analysis and financial projections
Service line plan development
Community based safety net strategy development and financing options
Data Anaysis and Crisis Management
Financial management of health care is an essential part of keeping your organization viable among competitors. BHM provides new and expanded financial solutions that converge on the essential and advanced issues of health care finance. By improving financial operations through data analysis and other tools we can positively impact operational readiness and increase the business that is so vital to your organization.
Cost variance analysis
Financial mathematics
Capital project analysis
Consolidations and mergers
Management control process
Accounting principles
Financial statements
Medical inflation
Industry benchmarking
Capital formation
Cost concepts
Cost accounting
Loss of business
Product costing
Financial information systems